Welcome to the Home of the Carolina Mens Baseball League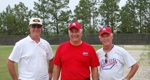 Joe Seme, Lou Howard and Frank Amoroso share a common bond, the love of the great game of baseball. They have played together on the Wilmington, North Carolina Old Salts in the Roy Hobbs Senior Men's Tournament held annually in Ft. Myers, Florida for the last several years. Their motto is "Forever Baseball, Forever Young" and they have established the Carolina Mens Baseball League for adult players  to share the fun and camaraderie of baseball with those looking to experience the sounds, smells (yes, analgesic balm) and joy of playing America's Pastime. The league plays in the coastal area of southeastern North Carolina. This is your chance to be a Baseball player, again. See you on the Diamond!
Please patronize our sponsors – Alpha Dogs Sports Gear, Queensboro Shirt Company, Brunswick Family Dentistry, Coastal Athletics, Novus Glass, Catlin Engineering + Scientists, Stadium Batting Cages of Wilmington,  Carolina Sports Medicine & Orthopaedic Specialists, the Wilmington Sharks, Image Finishers, Woodbury Insurance, Active Care Chiropractic +  ESPN Radio AM630.
The poll for "Who will win the NL Central in 2010?" resulted in a last minute victory for the Cubbies over the Cards that reeked of ballot stuffing in the Mayor Daly tradition – "Vote early and vote often."
Carolina Mens Baseball League, Inc.
 Visit Website Email: Carolinamensbaseball@gmail.com
Phone: Frank Amoroso 910.465.0535
Address: P.O. Box 329, Wrightsville Beach, N.C. 28480